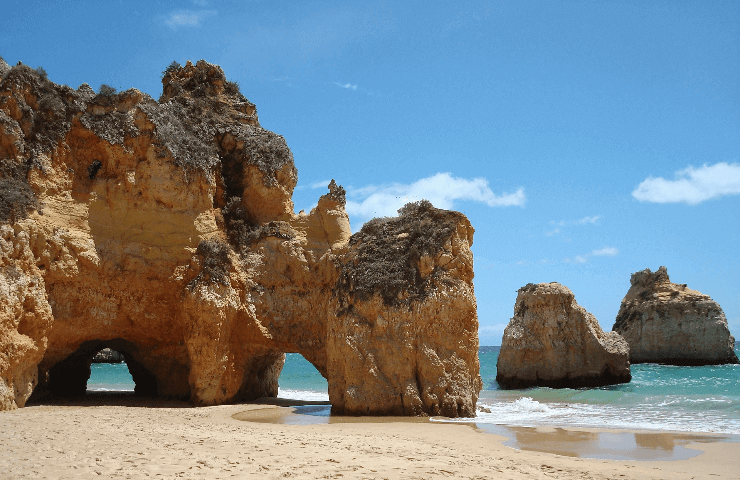 The Gallivanting Portuguese Coastline
Share this news, choose your social media!
It's time to start planning your itinerary to visit Portugal in 2024. At Across Portugal you will have the chance of discussing with our own specialists who can help you to develop your itinerary. Brace yourself to explore one of the most astonishing and tourism-friendly countries in the old continent.

Located at the very western end of Europe, Portugal encompasses a stunning and beautiful coastline worth exploring from north to south. Several miles of coastal areas, picturesque fishermen towns, breathtaking waves, and sandy beaches will make your trip quite unforgettable.

Costa Verde (Green Coast)

From rugged mountains and amazingly green hills that truly describe the north, the Costa Verde is a must, especially for outgoers who enjoy a combination of hiking and Atlantic Ocean views.

This remarkable coastline stretches from the Minho River, sharing a border with Spain and the homeland of the Green Wine, to the Douro River, where the "northern capital" of Porto lies. Alongside the dunes and beaches, expect to uncover charming and somewhat secluded towns such as Viana do Castelo, Esposende, Póvoa de Varzim, and Vila do Conde, four important port towns during the golden Age of the Discoveries, and Espinho known today for the best beaches to surf in the north. Aside from these little towns, in-between Vila do Conde and Porto, following the ocean you will be taken away by small and old fishermen towns such as Mindelo, Lavra, and Cabo do Mundo where still fishing is part of the Portuguese tradition.

Beyond Porto and these quaint towns, the Costa Verde provides golden beaches and lush forests, especially if you venture a bit inland to the Peneda-Gerês National Park, a popular top-notch destination for travelers who prefer to enjoy nature and wildlife with heavenly waterfalls alongside the route. Undoubtedly, an untamed coastline ready to be discovered with several trails and hiking paths (Paiva Walkways and Arouca's Bridge).

Costa Nova (New Coast)

What used to be a small and traditional fishermen's area to store fishing gear and boats, is nowadays one of the top-notch most touristy attractions just one hour south of Porto.
This unbelievable and charming coastline belongs to Aveiro, known as "The Venice of Portugal", a medium-sized town, popular for its water canals and its embedded relation with the fishermen who always knew how to navigate in the Atlantic Ocean. The colorful striped houses used to belong to the brave ones who faced the rough ocean to bring fish and feed the townsfolk. Today, these Art Nouveau instragrammable houses were converted into Airbnbs, traditional fish restaurants, and souvenir shops. Aside from being known for its Modern Architecture, another cannon highlight of the city is the gondola-shaped boat, the "Moliceiro". These ancient seaweed boats, fully ornamented with Portuguese themes, are today an exclusive activity for a tour around the canals.
The Costa Nova Beach is a must-visit while spending a few hours in Aveiro. Golden sandy areas and blue waves invite surfers for this activity, in-between May and September you can expect to find locals and tourists enjoying sunny days, lying on the sand. The Barra Beach is an excellent alternative if you're looking for a less crowded and noisy beach, where locals usually go swimming, having a lighthouse, one of the tallest in the country, and is undeniably worth a photo.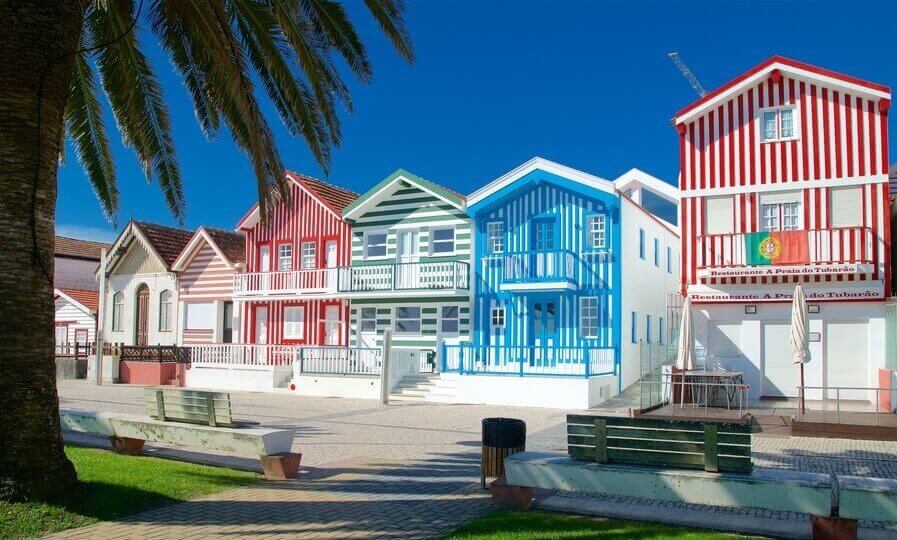 Costa de Prata (Silver Coast)

After leaving Aveiro, and heading south before reaching Portugal's capital, Lisbon, another quintessential coastline is presented while driving on the A1 highway, the Silver Coast.

With mild temperatures and white sand beaches, this stunning region is often overlooked by travelers who wish to venture off the beaten path and uncover charming and secluded little ocean towns. A region filled with history and culture, where one can enjoy charming little towns such as Óbidos, a town that looks like a fairytale, where you must park outside and uncover the city center by foot, admire the Renaissance architecture and taste the traditional Ginja; Tomar, the beacon for the Knights Templar with its colossal Convent of Christ; Alcobaça with its monumental Gothic monastery where kings and queens that shaped the history of Portugal are buried here, and much more.

This untamed coastline is most known and acknowledged for the big waves that clash against the rocks in Nazaré, a fishing village famous for big waves and worldwide surfers who specifically travel to Portugal just to catch the perfect blue wave and go with the flow.

Yet, the Silver Coast is much more than Gothic monasteries, convents, and castle-towns. There are other hidden gems worth exploring if you're driving through this coastline. Caldas da Rainha is a perfect example if you're looking for a quick escape and enjoy a day at a spa in thermal waters; Peniche, located on a peninsula with narrow streets, traditional houses, and exquisite fish restaurants; Foz do Arelho, not far from Óbidos downtown, the perfect place to relax and sunbathing in local beaches and nature; Ericeira, followed by Nazaré, this is the second most popular surfing town, mouth-watering seafood restaurants, and a few seaside vista points.

Lisbon & Outskirts

The Portuguese capital is known for its history, steep streets, elegant monuments, and charming little plazas.

However, if you wish to do a short and quick trip to its stunning and breathtaking coastline, it is definitely worth exploring its wonderful beaches. Lisbon's coastline covers approximately 200 km between Sintra and Cascais, where you will have the chance to enjoy rugged cliffs, picturesque waterfront viewpoints, and pristine blue waters. Surfing, swimming or just lying on the sand, these shores are a must whether you are driving towards the south or just spending a few days in Lisbon.

Starting in Sintra, one of the most beautiful and magical towns in the world, similar to a Tolkien movie, the most western point is located here, called Cabo da Roca, a photo souvenir with a magnificent viewpoint. Afterwards, take your time to relax at Ursa or Adragas beaches before heading to Cascais.

The last destination lies in Cascais, recently nicknamed the "Portugese California" due to the amount of US citizens who are seeking a retirement place not far from Lisbon. This charming and noble town, quite identical to Monterey in California, is a popular destination for both travelers and locals alike featuring a variety of sandy beaches worth visiting.

Surrounded by astonishing cliffs, you have the Cresmina Beach, a great spot for swimming or enjoying a perfect sunny day at the bar. The Duquesa beach, not far from Cascais' downtown area, is another option if you wish to stay nearby the old town, great for kids and with a range of restaurants and cafes if you would like to grab a bite.

If you are a trail seeker or a hiker, both towns provide unique and secluded routes to explore along the cliff tops. Be aware, the golden hour for sunset pictures is usually crowded.

Vicentine Coast

Last but not least is the ultimate road trip in Portugal, heading towards the Algarve, you will encounter sun-kissed dunes and white sandy beaches at the Vicentine Coast.

With more than 100 km, the Southwest Alentejo Park & Vicentine Coastline is covered with many secluded and sometimes off-the-beaten-path beaches where you have mountains on one side and the Atlantic Ocean on the other.

Cozy and traditional fishing villages, exquisite views, and a nature lover's heaven, this park hosts a plethora of fauna and flora, becoming a popular destination not only for swimmers but also for trail seekers and wildlife adventurers.

Rich in history and culture, especially from pre-historic times, there are several waterfront mountainous landmarks that confer stunning viewpoints such as Cabo de São Vicente, Zavial Beach, or even charming fishing towns like Odeceixe, Vila Nova de Milfontes, and Aljezur.

During the summer season, van life is the main motto of this region. Expect to find a lot of van drivers who park their trailers and camp around the park for the best vacations in Portugal. If you are planning a road trip and the Vicentine Coast is on your bucket list, this is the perfect place for outdoor activities whether you are a history aficionado or just a nature enthusiast.

Planning your vacations

Do you require a team that saves you from all the hassle and planning in a country you have never been to? At Across Portugal we always customize you're your experience to fully meet your expectations. A complete and tailor-made program developed especially for you, whether you would like to visit historical towns, explore the countryside and wine regions or simply relax at the beach.

With a deluxe service, our team is always ready to assist you before and during your vacations in Portugal.